According to the LSU newspaper, it seems like the atmosphere in Baton Rouge is allowing the actors to go out and enjoy the town. For the first two movies, this was very much what the actors were able to do in Portland and Vancouver; granted, with being asked for some pictures and autographs along the way. Starting with Eclipse, however, they were virtual prisoners in their hotel rooms with constant hounding by the paparazzi. They almost never went out without a full security escort.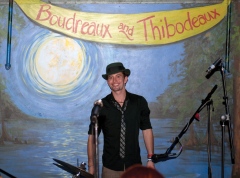 ""Breaking Dawn" cast member Jackson Rathbone — has been performing every Tuesday, said Eric LeBlanc, manager at Boudreaux and Thibodeaux's.
"The crowds have been huge on Tuesdays," LeBlanc said.
Rathbone and 100 Monkeys were at the Baton Rouge State Fair this past weekend to film a music video, according to J.H. Martin, the State Fair's CEO and chairman.
"Because Jackson is in the movie, they have been hanging around Baton Rouge," Martin said. "We did see an increase in people crowding around the stage when they started playing."
Martin said the band was a pleasure to meet.
"The ladies might think [Jackson's] the cutest because of his Southern charm," Martin said. "They were super nice young men."
While the production team for 100 Monkeys was filming the music video, some of the patrons started to notice, Martin said.
"We did a shot in the back by the bumper cars, and we had to get two security guards to make sure nothing got out of hand," Martin said. "If somebody spots one, they tell the world about it on Twitter and Facebook."